The Perfect Blend of

Comfort, Reliability and Durability


to Drive

Greater Productivity
Announcing the Arrival of the Panduit
GTS-E

and

GTH-E


Plastic Housing Ergonomic Cable Tie Installation Hand Tools
Installs subminiature (8 lbs) through standard (50 lbs) cross-section cable ties
Hover over the icons to see more benefits.

*
These ergonomic hand tools are excellent for low to medium volume applications (under 50,000 ties/year)

*
Lower handle force lessens the risk of repetitive motion injuries.
*
Significantly reduced cut off force reduces impact shock by more than 40%.
*
Ergonomic design enables all fingers to be engaged, creating a more natural fit to the operator's hand and protection against repetitive stress injuries.
*
Slip-proof handle provides greater comfortable and a secure grip.

*
Consistent performance throughout the life of the tool results in flush cable tie cut offs and proper tensioning to minimize rework.
*
Pull and twist of the tension setting knob allows for quick, easy and accurate tension setting.
*
Easy-to-read tension setting information label on the tool.

*
Rugged design upholds consistent performance throughout the life of the tool.
*
Housing made of resilient and lightweight plastic
Need more information?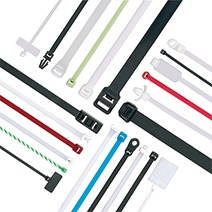 Panduit offers a broad range of industry approved cable tie styles, sizes and materials for all your application needs.
Learn more